Everything for your live stream
BSS Cases for ATEM Mini & ATEM Mini Extreme
Our complete streaming bundle
Everything included - just switch it on and get started
Our goal is to offer you the best possible performance for your live stream. That's why we develop products for Blackmagicdesign's popular video switchers: our BSS cases for ATEM Mini and ATEM Mini Extreme.
BSS Cases for ATEM Mini - customizable to your needs!
With the BSS Cases you have everything ready for your live stream. The basis is the stable, transportable case with an integrated monitor and all the connection options of the ATEM mini video mixer series. In addition, many accessories are available. It doesn't matter whether you're connected to the power grid or somewhere far away – thanks to battery power, you're always online with your stream.
With additional features such as the integrated SDI converters, your professional equipment can also be connected directly. This allows you to adapt the case exactly to your needs.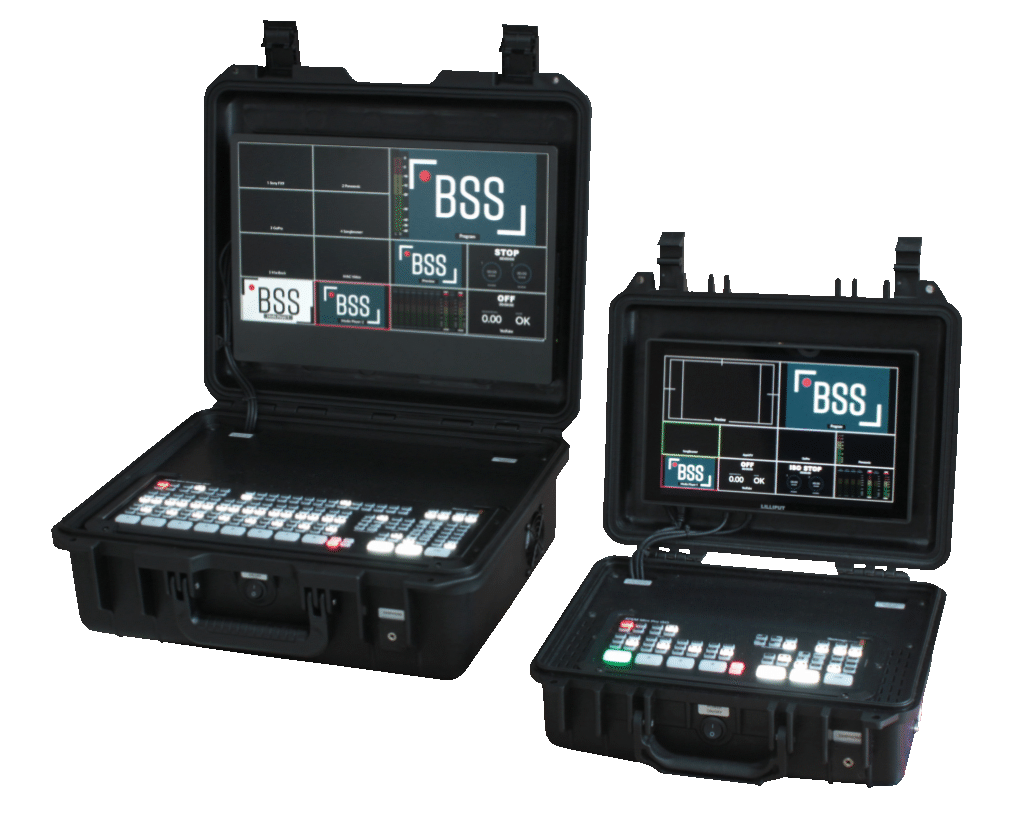 Our support for your stream
Check out our blog articles for more information on streaming with ATEM Mini Pro and ATEM Mini Extreme.
Based on our own, multiple experiences with a wide variety of systems, we want to support you in achieving the optimal result for your stream.
More than just good products
In addition, we also offer training courses for the corresponding streaming software such as OBS and the necessary applications. You can find more about this in the Services section under "Consulting & configured streaming setups
I recently became the owner of a BSS case Extreme Professional with four SDI and four HDMI inputs. This is a ATEM MINI Pro Extreme, which has been fully wired into a compact case. All inputs and outputs are easily accessible on the outside. There is a monitor in the lid. The unit is "costumbuild" and manufactured in an extremely high quality. The support of BSS Streaming Services in Plüderhausen is second to none. Armin and Daniel Breitenbücher are always on hand with help and advice, should you not get along. The unit has its price, but is worth every penny. I can recommend anyone who regularly makes small and medium-sized recordings and livestreams as a robust and reliable tool. And: The cable clutter is now much more manageable and the set-up times shorter.
We purchased a BBS-Case Professional Extreme last year and are extremely satisfied with the professional service and construction of the case. It is not only compact and therefore very handy for recording on site, but also due to the combination of SDI and HDMI and the very solid construction in the highest processing quality. It's a pleasure to open the case and just start filming.
More than just a suitcase - our streaming cases
You already know what you want? – Click here for the configuration